HK Mark 23
By Erik Rodriguez Tags:

HK Mark 23, Heckler & Kock 45, MK 23 SOCOM, USP 45 Tactical, Supressed .45, HK NFA items

This articles provides a detailed look at the Heckler & Kock Mark 23 Pistol. It is compared to the Glock 21 for size and construction.
---
Mark 23 vs. MK 23
They are basically the same gun, only the MK 23 was originally supplied to the US military. The Mark 23 is no longer produced as of July 2010. Retail prices for a new model range between $1800-$2500 depending on where you find it. It is arguably one of the most accurate and durable handguns ever produced.


Purchasing the Mark 23
I had this added to my wishlish as gunsbudshop.com and once it became available I pulled the trigger on it. Buds is great to work with, they have low prices and you can even use lawaway for no extra charge. Ordering this weapon online was actually better as I didn't have to pay sales tax. I did have to pay a $40 FFL transfer fee, but still beats 7% of $1920 ($135). I wanted this gun for several reasons:
HK performance/reputation
Collectable/cool factor
Ability to run supressed
One of the major selling points of the Mark 23 is it's ability to run supressed. This gun was originally designed as an offensive weapon for US special forces, and it was designed to be operated with a silencer attached. Supressors are NFA items, and require special paperwork and instructions to obtain NFA items.


Operation of the Mark 23
There are several things I like about the Mark 23 and several things I don't. The following sections provide more insight on my likes, dislikes, and a comparison with the Glock 21.

As I metioned before, this was originally designed for the US military. That being said, I think HK assumed anyone using this gun would be wearing gloves. The over-sized trigger guard, sharp safety lever, and violent de-cocker are several things that are difficult to deal with bear handed. The spring is large and strong making the slide a little hard to pull back if your hands have sweat or blood on them. If you plan on using the gun extensively, get a good pair of tactical gloves. It will make shooting this gun both easier and more fun.


Size
One of the biggest complaints about the Mark 23 is it's size. Yea, it's pretty big. I have huge hands, and this gun even seemed large to me. Think Desert Eagle large... The images below show the Mark 23 compared to a full size Glock 21C. Both weapons are chambered in .45 ACP:


| | |
| --- | --- |
| Click to Enlarge | Click to Enlarge |






You can see the size comparison, and while the Glock 21C is compensated, the Mark 23 has only slight added recoil for not being compensated. It is an easy gun to shoot for someone with large hands. Disassembled, the Mark 23 shows its boldness with massive recoil springs, a barrel nearly 6 inches, and a light weight polymer frame. Upon comparing the frames and slides side by side, the Mark 23 is only slightly heavier. This was a real surprise based on how much larger the gun actually is.
| | |
| --- | --- |
| Click to Enlarge | Click to Enlarge |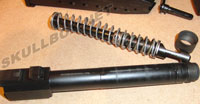 Click to Enlarge
Commentary
There are several things I liked about this weapon, and several things I disliked about it. Things I liked:
Accuracy
Magazine release speed
Threaded barrel
Durability
Trigger pull & weight
The accuracy on this weapon is outstanding. Point of aim, point of impact, but only with 185 grain +P ammo. Using standard 230 grain ammo with leave you shooting low, so you will need to adjust the sites of for that.

Once released, the magazines drop from the frame in a hurry! They release noticably faster than the Glock mags. Great for fast reloads.

The threaded barrel is obviously needed if you plan on running supressed.

The Durability of this weapon is great. If I was going to a gun fight, this is the gun I would bring.

Trigger pull and weight were nice. The double action pull is insanely rough. Over 12 pounds! The single action pulls crisp at a little over 4 pounds.

There are also several things I did not like:
Lack of accessories
Cost of additional magazines/parts
Cheap hammer
Cheap Case
There is no picatinny rail on this gun, and while you can buy an adapter for one, it will cost over $100. There is no decal grip, trigger adjustments, or anything else like that available for the mark 23. More importantly, there are only a few (yes I said a few) holster options for this beast. I purchased a Safariland from Optics Planet, but it is a special order and will take some time to get. All holsters are drop leg hostlers and there are no belt holsters for the Mark 23. I have seen a few advertised as inside the waistband for concealed carry? Like I said no way.

Extra magazines weigh in at about $60 each. Ouch!

The hammer used on the Mark 23 is half metal, half plastic. Maybe rubber, not sure. After manually cocking, and de-cocking with my thumb, the rubber is started to seperate from the metal. This will break soon, and it is a $90 replacement at hkparts.net. I figured they could put an all metal hammer on a $2000 gun, but I guess not.

The case this gun comes in is even worse quality than the hammer. It's a $2.50 thin plastic box they use with every other gun. The mark 23 barely fits, and there is no extra room for more mags. HK used to sell this gun with a zippered case fitted specifically for the Mark 23 and additional mags. I guess the economy is even hurting the gun makers... yea right!


Conclusion
The Mark 23 is too big for concealed carry. I told my girlfriend I was going to take it the movies next time we went and she looked at me like I was nuts. While it is large, it's not heavy. The Mark 23's price elimiates it from being practical. It is not a good purchase for someone who only wants 1 gun, and is pretty much geared towards collectors, enthuasiasts, or anyone who wants a good host weapon for a supressor.

As I said before, it's a solid weapon and a great candidate for a gun fight. If you are looking for a more practical gun that isn't soo large or expensive, you would be better off with the USP 45 Tactical. Many of the features on the USP were take from the Mark 23. They even make the USP 45 Tactical in a compact model. It comes in around $1000 less than the Mark 23, making it a little over $1000 total. Still expensive, but the like they say, you gotta pay to play...





NOTE: this form DOES NOT e-mail this article, it sends feedback to the author.