Networking
By Erik Rodriguez
This article provides an overview of the networking industry. It discusses the common uses of the technology, financial status, and forecasts. There are links to various networking topics within this site.
---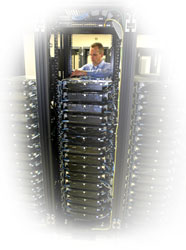 What is Networking?
Networking is the connection of devices (computers, servers, phone, etc) to share resources. The networking industry is composed of over 700 companies. Leaders in the networking field (not based on share price) include but are not limited to Cisco, Sun Microsystems, and Intel. Total market capitalization in October 2004 was 34 billion dollars. Currently, market spending is down due to shifts in the economy. This is largely due to terrorist attacks which forced investors to decrease spending. However, economists predict spending will eventually increase.



Types of Networks in Use
The United States, Europe, and other highly developed countries of the world pose many complex networks. The biggest example is cellular telephone networks. Cellular use is increasing at an all-time high. Many networking companies play a key role in the existence and development of these networks. Nortel, Lucent, and Cisco produce high-end antennas, switches, and communication equipment needed to run these networks. The United States has a very complex backbone of fiber optics that allows for the communication of computers, telephones, and televisions. With the introduction of VoIP, TVIP, and FTTH, our networking potentials are sky high.



More?
The links below provide a wealth of information on networking:




Basic Networking

Intermediate Networking

Advanced Networking