GSG-5 Reliability Problems
By Erik Rodriguez

Tags: GSG-5, ATI GSG-5, MP5 clone, GSG-522, HK MP-5 .22, GSG Problems

This article provides information about the GSG-5 from American Tactical Imports. This is an awesome gun, but has some reliability problems. Various aspects of this gun are discussed including reliabilty, common problems, upgrades, and more.
---
Introduction
I first spotted the GSG-5 in 2008 or so when it was first released. I did some research on it, and figured it would be a fun gun and much cheaper to shoot than my Glock 21. I never ended up purchasing one. In early 2011 I started looking into the GSG again. The gun has gained a lot of popularity and there were all types of aftermarket accessories and information on the gun. I called my local gun shop, but they said they did not have any, and would not be getting one in because they quit making the gun. To make a long story short, H&K sued them for the design, and since they have released a modified version that is just different enough from the MP5 to calm H&K. I wanted the original!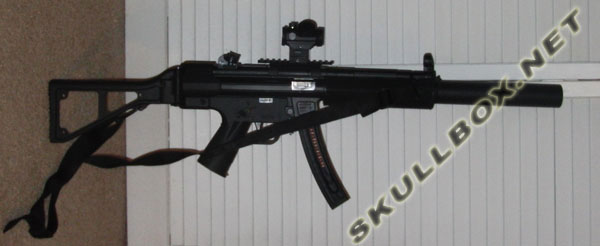 So I hit gunbroker.com to see if there were any on there. I purchased a used one from a private party that came with (3) 10-round clips, a 4x scope, and the SD version of the GSG-5. The GSG-5SD is basically a cooler looking version with a larger fake can and thicker hand guard. It took a little while to get the gun as it was shipped from California.

I had some initial problems with the gun, but after some tweaks of my own, it's now working much better. The gun looks awesome and always gets a lot of attention at the range. The following pages provide more information about this gun:





NOTE: this form DOES NOT e-mail this article, it sends feedback to the author.